Our Minecraft services are, by default, only for Java Edition Minecraft - as such you will not be able to log into them via Pocket/Bedrock versions of Minecraft (Windows 10, iOS, Android etc..).
However - we do provide a server version that can be used to switch the server over to Pocket/Bedrock - NukkitX. If you follow the guide below you will be up and running for Pocket/Bedrock in no time at all.

Note:: 
While the XboxOne, PS4 and Switch versions of Minecraft use Bedrock Edition, they do not allow for custom servers to be added, and therefore cannot be used with non-Realms hosted Bedrock servers. This is not something any Minecraft server host has any control over, that is entirely down to what the Bedrock devs add/allow in the game itself.

How to switch the server over to Pocket/Bedrock Edition::

When you have purchased your server you will be emailed the log in details to your control panel, along with the IP and Port of your server - Make sure to check your junk/spam emails for the Minecraft Server Information email. You will then need to log into the MultiCraft control panel with the details that were emailed to you.

- Once you are logged into your control panel you will need to scroll down to the very bottom of the JAR File selection, and select NukkitX on the drop down list, as shown below. When you click on the NukkitX option the page will refresh to confirm that it has changed. 




(the name shown will vary - depending on current NukkitX build, Bedrock version and date it last updated - however it will always be under NukkitX at the bottom of the list)

- You will then need to wipe the contents of your server files. As Bedrock and Java PC are essentially different games, any files from one can cause issues on the other. To do this you simply need to go to Files > FTP File Access on the control panel and log in with your MultiCraft account password. Once logged in select and delete everything.

- Once this has all deleted go back to the main page of the panel and click the 'Restart' button at the top of the page.

- The first time you install NukkitX it will require one additional step, so if you click on Console on the left hand side you should see the following being shown in your servers console: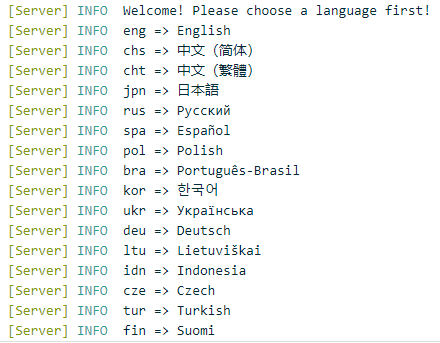 - Go ahead and type the three character code for the language you would like to use in the text box below the console (for example just enter eng for English) and hit Send - it will then finish loading your server up.

- As soon as the server status is a green tick on your control panel, you can go ahead and log in via the IP and Port shown on the main page of your control panel (or in your server information email).

You are then good to go!


If you have any issues with this please let us know via the support tickets.

Please Note::
NukkitX is still considered a BETA software, and as such it may have some minor bugs/issues - however we do keep this option up to date with their releases, and you can update any time you need to following the guide here.
Any bugs with the server software that you come across should be reported to the NukkitX team themselves with as much detail as possible, so that they can replicate the issue and resolve it on their end. You can report bugs/issues with the software to the developers here: https://github.com/NukkitX/Nukkit/issues