NOTE:
Please make sure the modpack runs on Fabric specifically before reading this guide - if the modpack is for Forge the installation process is different! There are guides for Forge modpacks here: 
- Installing A Modpack Not On The Jar List (Forge 1.16.5 and Older)
- Installing A Modpack Not On The Jar List (Forge 1.17.1 and Newer)


---
---
Pre-Installation Server File Preparation
A few strongly recommended steps to follow to prepare the server for the modpack installation are:
1 - Shut the server down on the control panel (mc.beastnode.com)

2 - Download anything you need to keep from the server files (for example world folders) and then delete everything except for the server.properties (if you need it to set a level-type for any world generation from your mods - if not then this can also be deleted).
This should be done every time you install/switch to a new setup to limit any potential issues - any files from a different setup can cause major issues that would not be there otherwise (particularly when using worlds across different setups).
You can access, download and wipe files through an FTP client following the guide HERE.

3 - Select the 'Custom Server JAR' option you need on the jarlist (right at the top) and the page will refresh to confirm the change. Fabric 1.16.5 and older is recommended to use Java 8 (they may not work with Java 11 or 16), Fabric 1.17.1 should use Java 16 and Fabric 1.18+ should use Java 17.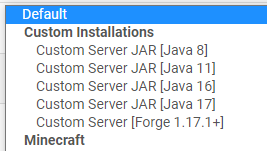 4 - If you are using a custom world generation mod make sure to enter the code for that mods generation in the Files > Config Files > Server Settings' Level Type option and save changes to the file.

5 - If the modpack requires a specific world name (for example if it comes with a premade world folder, or requires a specific world name for a mod it uses) enter it in the World text field on the main page of your servers control panel and hit Save at the bottom of the page.



(general example - Biome Bundle is the most common world name used with the Forge mod "OpenTerrainGenerator")
NOTE:
While not necessary - if the modpack does not require a specific world name it would be recommended to use the name of the modpack so you have an easy reference for which world folder is for which modpack if you switch between any.


---
---
Modpack File Preparation

You will then need to download and prepare the files for the modpack, ready to upload to the server. How you get your modpack server files varies depending on the launcher and/or modpack developer that they are provided by - some provide you with an executable file to download the files as they are needed, some will provide a .zip that contains the files directly.

As there are so many ways for the developers to provide you with the files we cannot cover them all - this guide will only cover what you need to change before uploading them to the server for it to work.

Common examples of where to find server file downloads:
- Technic modpacks will link to their server downloads, if available, on their website pages,
- Feed The Beast and ATLauncher server downloads can be downloaded through the launcher itself.
- Most CurseForge modpacks' server files can be found on that modpacks CurseForge page.
Other modpacks/launchers will provide server downloads through their own launcher or their own websites.

If the modpack you wish to use does not provide a server file download you can install the pack using your client installation of the modpack. In this case follow the guide here on installing Fabric itself, and use the mods/config folder from your client installation instead:
- Installing Custom Builds of Fabric and/or Custom Mods

----------
What you need to change in the modpack server files before uploading::

When you have the files from the modpacks server download in a folder on your computer you will need to make one small change to allow it to work with our hosting, which is one small change of renaming your server jar and putting into a jar folder.

In the server files there should be two jars - a server.jar (this must not be renamed or moved, it remains in the base directory) and another jar that by default if the modpack developers do not rename it should be fabric-server-launch.jar.

Rename the fabric-server-launch.jar (if it has been renamed by the modpack developers it should be obvious which one it is) to custom_server.jar if this is for 1.16.5 or older, custom_server_j16.jar for 1.17 and custom_server_j17.jar for 1.18 and newer (if you selected the Java 11 custom server option on the jar list for any reason rename the jar to custom_server_j11.jar - it shouldn't be needed for Fabric though) and then move this file by itself into a new folder named jar exactly.

Note that some newer Fabric versions also include a libraries folder - if this is present when you install the server files, put this into the jar folder also.

You're now good to upload everything to the server files!
When everything has uploaded go to your MultiCraft control panel - making sure any necessary level-type options or world names are correctly set and that the correct Custom Server JAR option is selected on the drop down list - and start your server up.

If everything has been done correctly everything should now load up fine! Note that modded setups can take a long time to load, particularly those with a lot of mods to process.