You can easily upload your own server JAR file, if the server software you need is not available on our list, via the server FTP file access - If you do not know how to use FTP, please read the guide here: 
https://www.beastnode.com/portal/index.php?rp=/knowledgebase/70
When you are connected to the server files on your FTP client following the guide above, double click on the jar folder to go into it and then delete everything that is inside this folder.
Once done you can then upload your own server jar - to do so either (using FileZilla as the example, other FTP clients may vary slightly):
- Navigate to the folder your server jar is saved to in the left panel of the FTP client window - once you have found the server jar simply double click it to upload it to the directory you are in in the server files in the bottom right panel (make sure you are in the jar folder still).
- Drag and drop the server jar file you wish to use from your computer to the FTP client window, dropping it into the jar folder - this should start an upload of the jar file to that location.
When the jar file has uploaded it will need to be renamed to allow it to work correctly with MultiCraft. Which option you need to use on the jar list, and the name of the server jar to match, depends on the version of Java that your uploaded server jar is built for:
- Java 8 - custom_server.jar.
- Java 11 - custom_server_j11.jar.
- Java 16 - custom_server_j16.jar.
- Java 17 - custom_server_j17.jar.
When the jar file has been renamed accordingly go to your servers control panel, and change the drop down jar list to the correct Custom Server JAR option at the top of the list: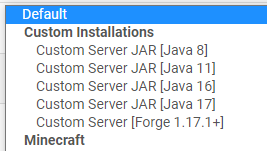 The page will refresh to confirm the change - you can then start the server up and it will load the server jar that you uploaded!
Make sure you are using the correct Java version for your server jar - for example all Minecraft versions prior to 1.17 were built with Java 8 and unless the developers of the software you are using recommend otherwise, use Java 8 (while newer versions may work, if your server jar was not built for them it can cause issues).