With our billing system, you will be able to invite other users access/manage certain billing features of your own account. To do so, follow these steps:

1. Login to the billing portal at https://www.beastnode.com/portal
2. Click your name in the top right and go to User Management (or click this link)
3. Type the email address the person in question into the Invite New User box.
4. Click the Choose Permissions option - this will list the things you can restrict their access to - and only give access to what they will require: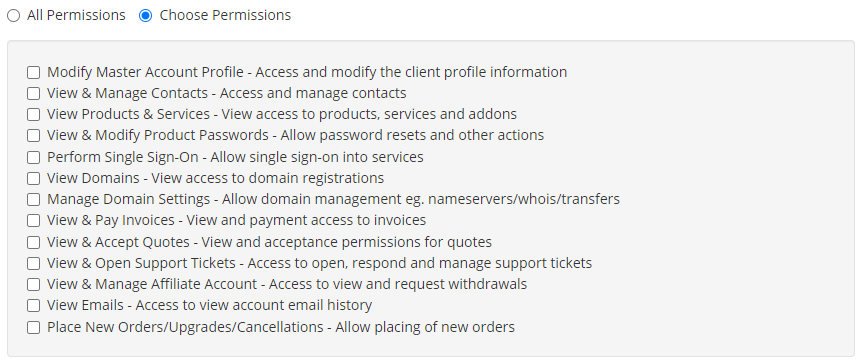 For example if you just want them to be able to view and pay any invoices/bills you have outstanding and to open/view support tickets you would just give access to the View & Pay Invoices and the View & Open Support Tickets options. The main options you will want to avoid giving to any sub-users are the Modify Master Account Profile, View & Manage Contacts and View & Modify Product Passwords - if you do not want them to be able to order/cancel/upgrade services do not give them access to the Place New Orders/Upgrades/Cancellations options either.

5. Once you are sure that the permissions you have selected are correct, click the Send Invite button.


The person in question will then be sent an email - make sure to tell them to check junk/spam as well! - with an invite link, which when clicked will ask them to either log into their existing billing account with us to accept the invite, or to register a new account if they do not have one under the email address in quesion.

Note - If they register a new account, once they have done so and logged in, they will need to click their name in the top right and go to Security Settings to set up a security question and answer.