The general connection setup is the same across most if not all FTP clients, but we recommend FileZilla in general so the guide will focus mostly on this.

Using FileZilla for FTP Access
We recommend using the FileZilla FTP Client (Do NOT get the FileZilla Server) to modify any type of files on your server.  Here are some quick and easy steps to connect you to your service directory:
Setting Up FTP Access:
1. Download FileZilla here: https://filezilla-project.org/download.php?show_all=1
2. Install it then start it up.
3. Log into Multicraft and navigate (left hand side) to Files > FTP File Access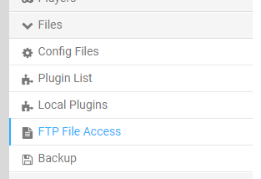 4. On this page, it should show you the host address (IP address) and port, username and the password is your current Multicraft account password




5. Use that information and put it into the top bar in FileZilla, where it shows host, username, password and port



NOTE:
- The Username requires the .<ID> part - it must be exactly as listed on your control panel (eg if it says username.123456 on the control panel you enter that, not just username).

6. Click on Quickconnect (or connect, depending on the client version) and you will see a pop up regarding a security certificate. Simply click OK to accept it - this will ensure that file transfers to your server are secure and encrypted. You should be able to upload/download and modify files as necessary after this point.

FileZilla is very simple and easy to figure out.  Once connected to your server there will be two windows in your program.  The left window dictates the files on your computer and the right window shows files in your server.  To upload files to your game server directory, just browse for the files in the left window, right click on it and hit upload! You can even drag files directly from your desktop or folders onto FileZilla itself.





**If you are using WinSCP, and you are having difficulty connecting or staying connected to the FTP servers, then try the following:
Go to the Advanced Site Settings window
Find the "FTP" section. It should be under "Environment"
Find the entry that says "Force IP address for passive mode connections:"
Change it from "Auto" to "On"